A view from our terrace.
Rainy afternoon!!!
09-26-2011
Once again a typhoon visits Naga today -
typhoon Nesat (Pedring)
causing work and schools
suspended for today
. I read updates from Mike Padua's report and not PAG-ASA! Mike Padua's website ->
http://www.typhoon2000.ph
When I woke up today it was already gloomy and slightly raining :umbrella: outside, but not yet flooded. I was wondering if I have to attend to all of my appointments for today because early this morning only the secondary and primary school levels have suspended classes. Well atleast ateneo college has still their on-going class and faculties still have their work, with this I can still ask signatures for my papers. Hmmm... think think think..
would I be safe if I still leave house today?
Might I be stranded on my way to school like get stacked from the flooded street of Ateneo Avenue.. or from the streets in our place?
[cont...]
The thoughts of the difficulty of coming home made me changed my mind. I might just do those things tomorrow (making my next day really really busy).
But staying at home makes me really a
lazy bummer
!
Kasi nga.. pag malamig.. mahirap gumalaw galaw
. LOL! :good1: Coz during rainy and cold days I prefer to lie on my bed, cuddle with my big teddy bear - wyeth, watch tv, EAT chocolates, etc. Hmmm.. so it might just be another wasted day for me - nothing added to my sp, nothing arranged and cleaned.. blah blah blah.. :yeahright:
So I'll just have a shot on our street today. Geez, about 2 or 3 pm the street right outside our house is already flooded. Well it still look the same from the last pictures I posted. I hope I can have a shot from our rooftop for this. Check these pictures.
Good thing I did not leave this morning or I would really struggle to come home. Water is deepening as time pass by.
If you don't want to walk on those flood, you better ride a
padyak,
well unfortunately you still get wet. But the driver pushed his padyak on its way to our house (pass 3 houses) because it's getting difficult to move with the current.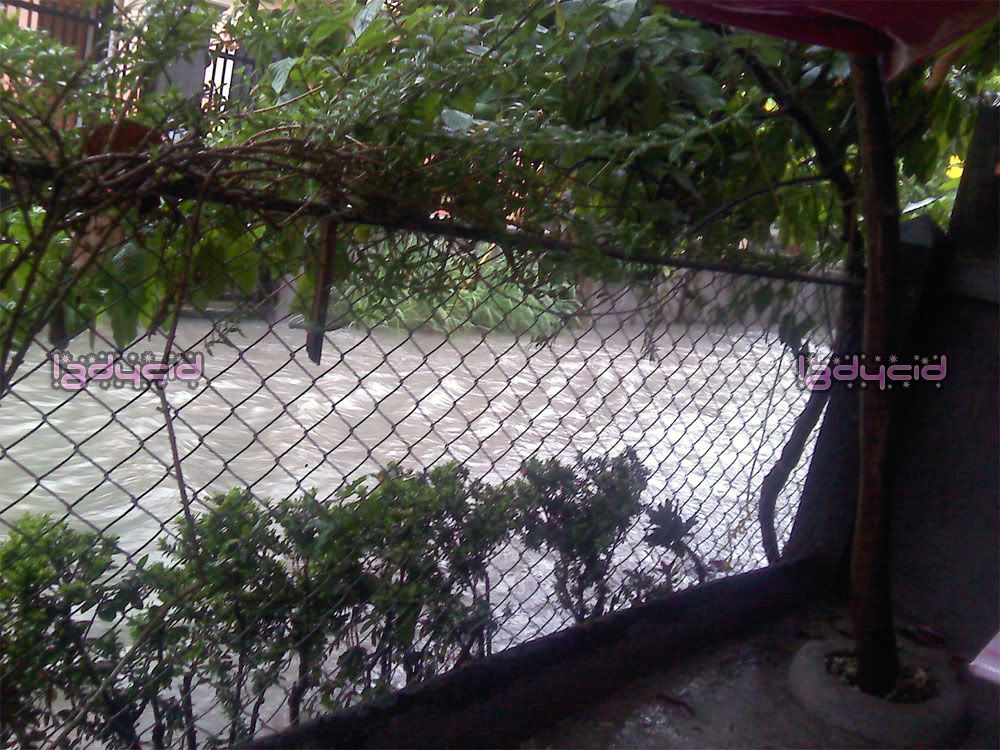 No I'm not proud of how it looks but this is what parts of naga gets when rain falls - even few amount of rain can get streets flooded easily. (Well I guess they were big teardrops.)