I've been chatting with my
cousin
who's now outside Philippines, :happy2: for quite some time now.
Well it's actually our longest chat ever!
This time we had a
videocall via yahoo messenge
r. :wink: She
demanded
to use yahoo messenger chat session... :yeahright: so we let it be. And to :happy2: my surprise she
initiated this videocall
.. wow she's just a
grade 5
girl but knows how to do this stuff over the internet already :exclamation1:.. pretty cool huh..:happy:
We actually started around
6:30 pm
(Philippines time,+8) and
ended just some 10 minutes ago
or something.. and yeas I did blog
right away
:evilsmile: To be exact I think it's
11 pm now
.. so
it was almost 4 hrs :exclamation1:
This was a
record breaking
chat session for me.. 4 hrs of videocall.. haha funny but it's true..
Only with simple chat I can extend that long
. :howiwish: I've done 8 hrs straight chat, but it's pure chat.. very different to this one..
Hmm our family really loves our cousin..
she's the daughter of our youngest aunt
.. :happy1: So we talked about our whole family.. and the other cousin and tito from the house next to us..
(Just consider us as an extended family.. if you want to.. we like it naman that way)
:happy: Haha that pic is really funny.. The girl with the
green goggles
is
our cousin
,
Trisha
..
The girl beside her is :wink: their
neighbor Abhie
(
not sure on how to spell her name
)
The man with
blue goggles
is
my dearest father
..
And the girl at the right most, beside that man, is
ME
!!
At that moment, we were talking about our
swimming plans
.. to my surprise papa and Trisha suddenly
rushed and race to show off their goggles
.. (
My father used to dive before
.. but not anymore today, so he has that goggles). They
swim in action
(just for fun) as if they're really swimming haha.. :happy: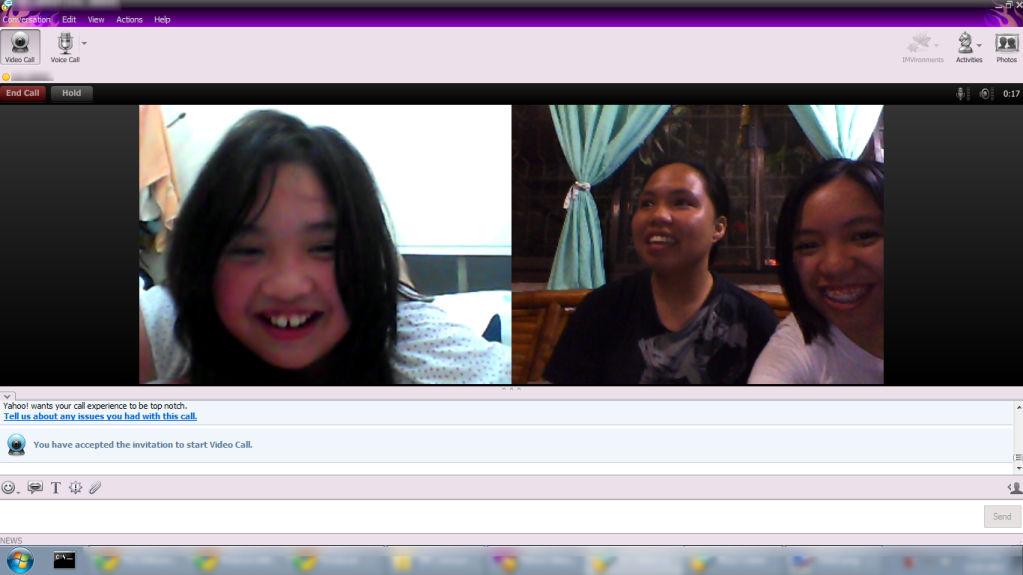 And
my sister
,
girl in black shirt
, just arrived from some neighborhood meeting or something..
not really sure what is that haha
And then
my cousin's mommy
,
Auntie Eva
, at her left side..
Our other cousin
,
ate Marian
, at the middle of everyone haha..
Ate Shela, girl in black shirt..
Me.. rightmost..
Too bad I didn't took shots when me, :lonely2: mama and papa were on cam >.<
:eek: I totally forgot. *sad*
Thanks to
Yahoo Messenger
for giving us opportunity to chat that long with our :airplane: overseas relatives. :wink: This is
much cheaper
and
better than the long distance phone call
. You bet! Haha.
Well I'll say that thank advantage of the current means of communication cause for sure it's cheaper and more reliable.
More of family chat sessions to come..